Beautifully Furnished Corporate Housing in Downtown Wilmington, DE.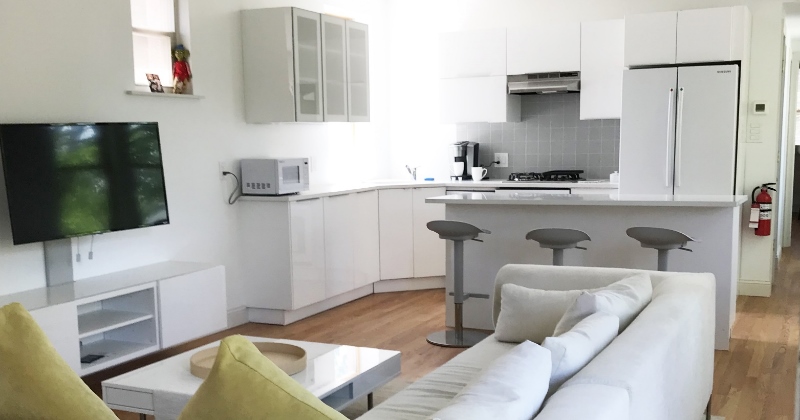 The Angelus House, home to an Art Gallery and the Mizu Design Studio, is a beautifully restored building in the Historic District of Downtown Wilmington, and within walking distance to shopping, the RiverFront, movie theater, Playhouse, Opera, nightclubs, restaurants, fitness, Amtrak, Septa, NJTransit, Buses, and easy access to I-95, 26 minutes to Phila Int'l Airport and 1.5 hrs to EWR. See Map
Short-term Rental

Fully furnished
Entire 3rd Floor, 900 Square Feet
Private keyed entry
Queen size bed, Extra closet space
1.5 Baths
Washer / dryer
Central air
State of the art decor
On-site Services:
24/7 management
luggage transfer
parking
100mbps WiFi
copy/printer/scan/fax
Contact us
for availability of our furnished full-service apartment in Wilmington, Delaware.
---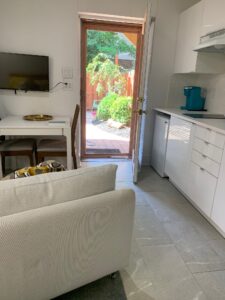 Studio with Patio (separate apt in same downtown area)
Private entry
Fully furnished
Queen size bed
Spacious and private
Contact us for details.
---
Rates and Booking:  rates adjusted for length of stay
1-bedroom furnished apartment: $60/night/1-mo stay — $1600/mo/12-mo stay  
Efficiency with private patio: $50/night/1-mo stay —  $1250/mo/12-month stay
Furnished Town Home:  $1950/mo/12-month
Minimum Stay all units:  one month
Call or email to book: 347-963-2208
---
Guest Reviews of Apartments
"The Angelus House is a beautifully designed and restored building in historic Quaker Hill, close to everything, yet a protected hamlet near the River Front, Downtown, the train and I-95. It's like a boutique hotel. I have enjoyed my visits very much and the owners are devoted to the place and to their guests, very warm and welcoming. The one-bedroom apartment is spacious and has euro-style furnishings, laundry, and 1.5 baths.
It overlooks the original Friends Meeting House, with its brick walls, wrought iron fencing and beautiful trees. There is plenty of fine dining as well as many interesting historic properties nearby. The first floor art gallery is lovely and on-site maintenance is a plus, great for business travelers. Its my first choice for staying in Wilmington."
— Cindy Greene
"I had a great experience with the owners! I was able to stay in the studio while I worked downtown. It was nice to have a close and safe space for walking to and from work everyday. In fact, it is a good distance from most places in the city! I'm thankful for how the owners were able to accommodate all my needs and concerns. I was very well taken care of and provided for with the basic necessities. The studio comes fully furnished, which is fantastic. I didn't need to add to much when I moved in, it made the process go very smoothly. I think it is a perfect spot for a single person who may be working downtown."
— Rachel Hope
"Very classy apartment."  —Ray C., New York
Review Us
We welcome reviews of our apartments and appreciate your comments!
Please leave us a Google Review